For years, Mitsuye Yamada, AM'53, never spoke of the 18 months she spent interned in the Minidoka Relocation Center during World War II. Yamada was 19 when she, her mother, and her three siblings were forced to leave their Seattle home with no certainty about when they might return.
They were among the 120,000 West Coast Japanese Americans ordered by the US government to remote camps in Arizona, Arkansas, California, Colorado, Idaho, and Utah. Yamada's father, Jack Yasutake, who had worked as a translator for the Immigration and Naturalization Service for 25 years, was sent to a prisoner of war camp in New Mexico under suspicion of spying for the Japanese. The FBI never found any evidence to support the charge, and Yasutake was exonerated and released from prison before the end of the war.
"It was just something that we never talked about," reflects Yamada, now 93 and living in Irvine, California. "It's an experience that one had to be ashamed of. If it happened to you, it must have been something that you did." Only in 1962, after her 11-year-old daughter saw a news report about Japanese internment camps, did Yamada reveal to her children that she had been held in one.
Fourteen years later, Yamada broke her silence on a wider scale in Camp Notes and Other Poems (Shameless Hussy Press, 1976), a book inspired in part by her internment. The collection, hailed as "vivid, pain-filled, and weighted with irony" by the Los Angeles Times, launched Yamada's writing career.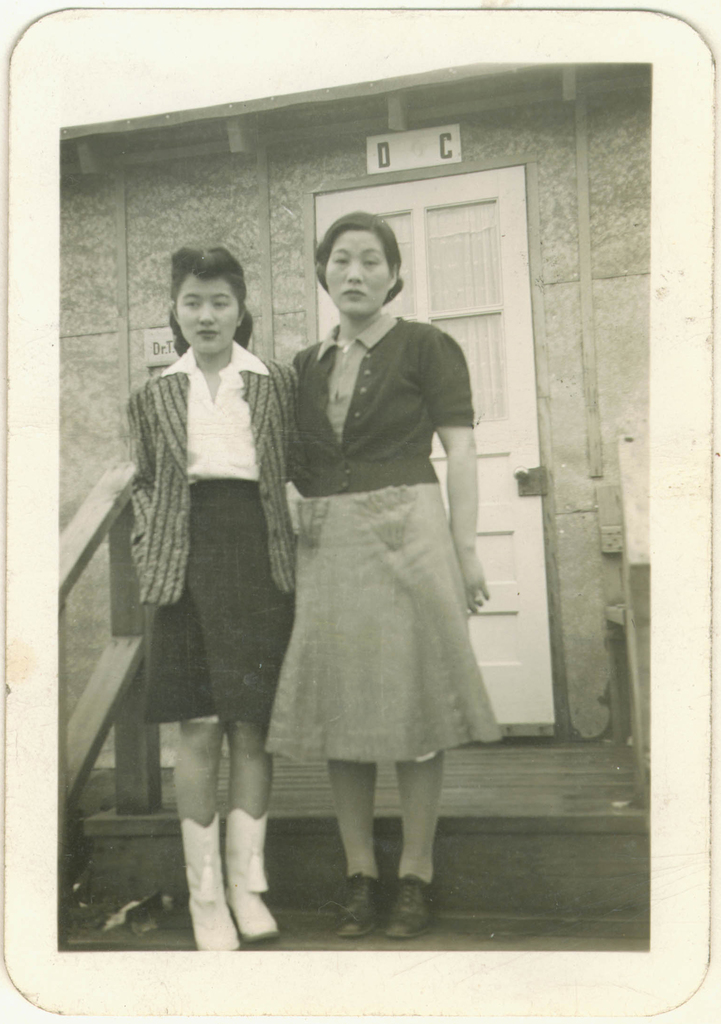 The language in Camp Notes is spare. "I remember taking a pen and just crossing out words on the page," Yamada says, "simply because I thought they were not central to the meaning of the poem itself."
What remain are stark accounts of the mundanities and injustices of life inside the barbed wire fences of Camp Minidoka. In one poem, she describes "the trick" to enduring camp life: "keep the body busy / be a teacher / be a nurse / be a typist / … / But the mind was not fooled." Yamada worked as a nurse's aide in the camp's medical clinic.
In "The Question of Loyalty," she describes the dilemma of the "loyalty questionnaire" given to interned adults, which required them to forswear all allegiance to Japan. Some refused on the grounds they were American citizens who had never been loyal to Japan. Others, barred by law from becoming American citizens, worried they would be left in stateless limbo if they renounced their Japanese citizenship.
The poem gives voice to the agonizing decision faced by the Issei—immigrants born in Japan: "If I sign this / what will I be? / I am doubly loyal / to my American children / also to my own people. / … / I wish no one to lose this war."
The poem's narrator speaks for many Nisei (the mostly American-born children of the Issei) who saw in the questionnaire a chance at release: "I signed / my only ticket out." Some Nisei, like Yamada's brother Tosh, left Camp Minidoka to serve in the Army. Yamada was permitted to leave in 1943 to attend the University of Cincinnati.
She went on to study English literature at New York University and at UChicago. "I had heard from somewhere that a master's degree from the University of Chicago was the equivalent to a PhD, and I thought, well, that's for me," Yamada says.
Yamada's love of poetry was shared by her father, Jack Yasutake, who wrote senryu and founded a club devoted to the seventeen-syllable form. (Senryu resemble haiku in style though not in content—in contrast to the more refined themes of haiku, senryu are often satirical and funny.) Yamada remembers Jack and his friends gathering at the family's home to read their poems aloud. Another friend, a calligrapher, would inscribe the poems on a large piece of paper tacked to the wall.
"It was a beautiful process, very artistic," Yamada says. "And I grew up with that. It was just something that seemed wonderful to me."
In high school she wrote short stories for the creative writing club—the heroines of her early efforts, she recalls, were "mostly blue-eyed blondes"—and began keeping a journal. In camp and afterward, she continued to write, "sticking little bits of paper into a shoebox like a lot of closet women poets did." By the late 1960s, she'd begun to teach writing at Cypress Junior College in Southern California and to publish and edit poetry, though she considered herself a hobbyist, "like a Sunday painter." It wasn't until the release of Camp Notes that she saw herself as a poet.
Through her publisher, the feminist poet Alta, Yamada was introduced to an entirely new world. At readings in San Francisco coffeehouses, she met women active in the feminist movement, which was "quite a revelation to me," Yamada says. Their ideas emboldened her, providing a contrast to her own calm life as a mother of four. 
Traveling in these more radical circles exposed Yamada to other Asian American writers and activists, including Merle Woo and Nellie Wong. Wong and Yamada were the subject of the 1981 documentary Mitsuye and Nellie: Asian-American Poets, which explored the Chinese and Japanese immigrant experience in the United States. During that time, Yamada also became active in the human rights group Amnesty International and served on its board.
The influence of Yamada's new friendships and experiences is apparent in her second collection, Desert Run: Poems and Stories (Kitchen Table Press, 1988), including "Masks of Woman": "This is my daily mask / daughter, sister / wife, mother / poet, teacher / grandmother. / …  / Over my mask / is your mask / of me / an Asian woman."
Yamada sees a kind of power in the directness of Camp Notes and Desert Run. "We seem to think that we have to be distanced from the pain in order to write," she pointed out in a 1988 interview. "And I say that there should be a place for that kind of poetry."
In recent years Yamada has shifted from poetry toward memoir; she recently completed a biography of her father, who died in 1953 only weeks after becoming an American citizen. "You realize your mortality," she says. "I'm going to have to write these things down as fast as I can so that my children will remember."
She knows stories like hers and her father's can get lost easily. "Maybe it's a survival instinct of a sort, to forget those kinds of things and to go on with our lives," she says. "You forget the struggles of the past."
Published: Spring 2017
---