Philosophy student Dhananjay Jagannathan, AM'13, thinks graduate school can be a "strange liminal state" between student and teacher.
A graduate student might attend a seminar one day and teach one the next. Yet this common tension between learning and teaching is something William Rando, director of the University's Chicago Center for Teaching, encourages graduate students to use to their advantage. "It's a perfectly natural situation to be one thing and strive to be something else," Rando says. 
The Chicago Center for Teaching supports teaching and professional development in pedagogy for graduate students and faculty across campus. From seminars on teaching topics to individual teaching observations, the center emphasizes teaching as a process and helps graduate students progress in teaching responsibility.
"Preparing to teach is not something you do at the end," Rando explains. "Every teaching experience—grading, TA-ing, or an occasional lecture—is a learning experience."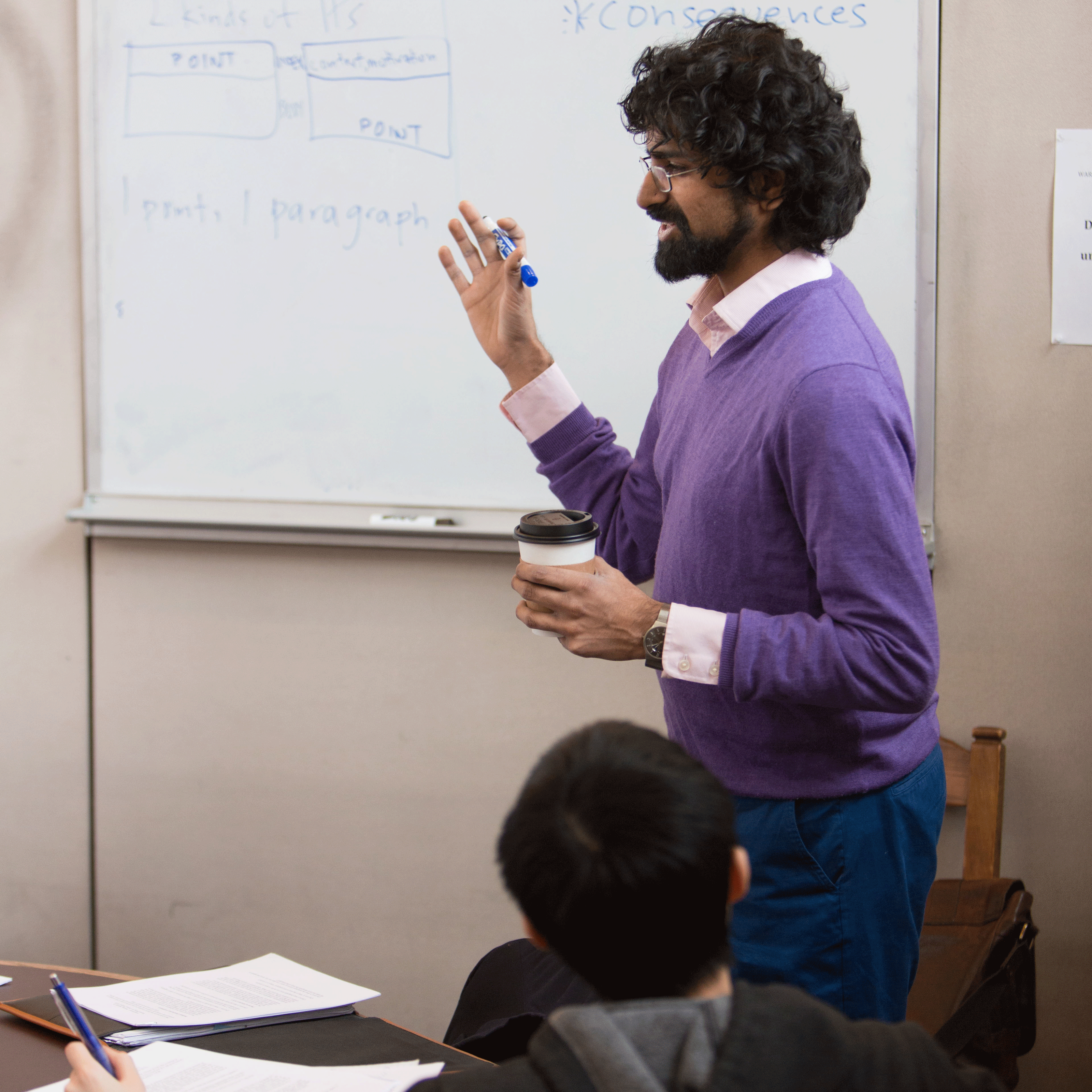 Jagannathan, who came to UChicago in 2011, has held a number of teaching positions. He has been a course assistant for ancient Greek philosophy courses in his department, taught a freshman seminar at the School of the Art Institute of Chicago, and this year serves as a writing intern for the University of Chicago Writing Center. There Jagannathan teaches a writing seminar for undergraduates enrolled in a section of Human Being and Citizen, a staple of the College Core. Interns also attend the regular class lectures and might teach a few sessions during the quarter.
Using every teaching opportunity as a learning experience is increasingly important in a challenging job market, where academic job candidates are often asked for evidence of their teaching. One aim of the 2007 Graduate Aid Initiative was to provide students with specific teaching opportunities. Most students receive course or language assistantships early in their programs, and many advanced PhD students serve as lecturers, running their own courses.  
Mary Buck, AM'14, a third-year PhD student in the Department of Near Eastern Languages and Civilizations, began her first teaching assignment this past fall as a language assistant for Biblical Aramaic. She met regularly with the instructor to discuss the course, assisted with grading exams, and served as lead instructor for four weeks.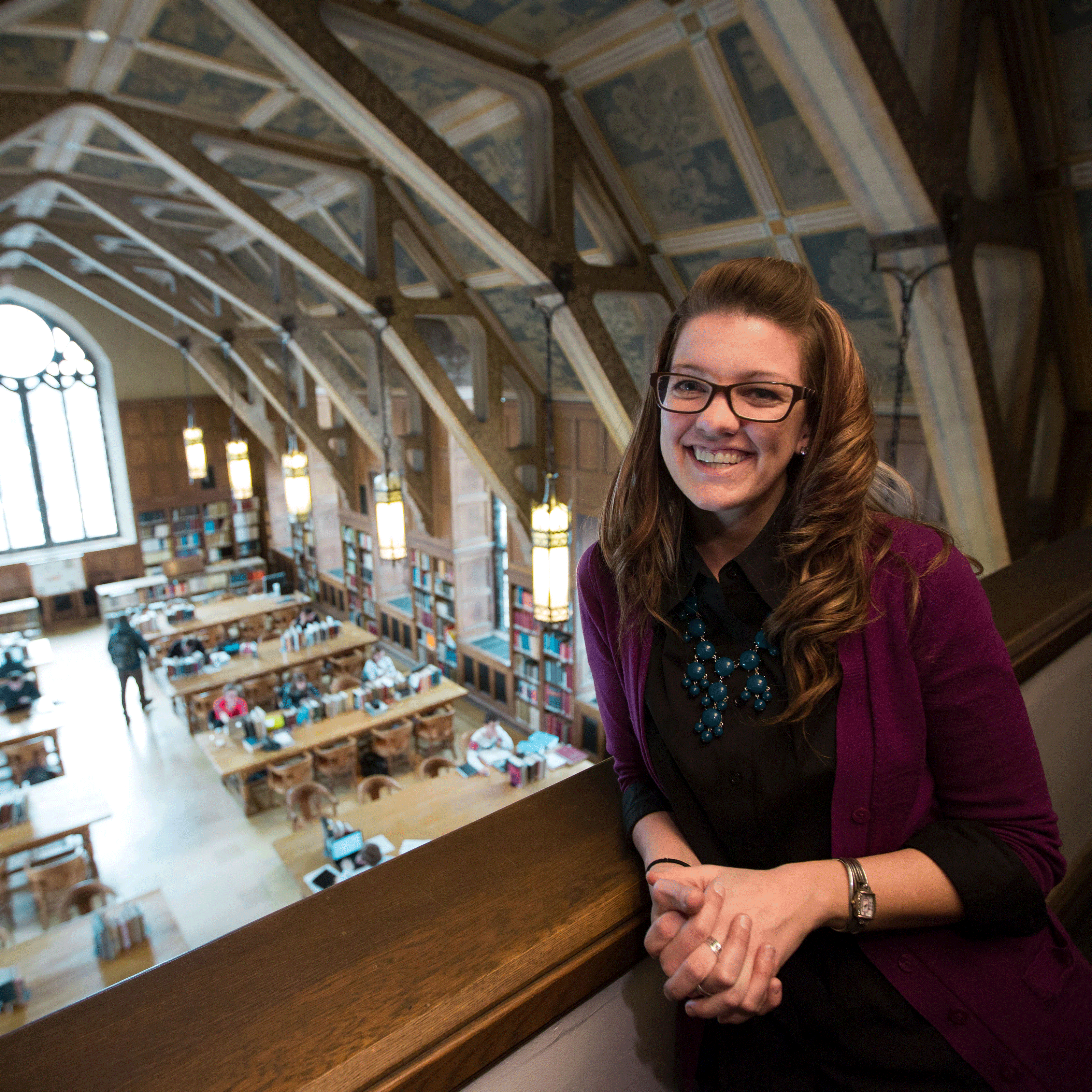 Buck sees her teaching experience as both practical—she has a looming comprehensive exam in the language—and intellectual. Entering her graduate program, Buck saw herself as more of a historian than a language expert. Her experience teaching Biblical Aramaic has changed the way she thinks about the interaction of language and history. "I'm able to think more broadly about how language develops," she says.
Teaching assignments also let graduate students observe other instructors' class structure and teaching style. After doing some teaching of her own, English Language and Literature PhD student Margaret Fink, AM'07, is more aware of different teaching methods. When she sits in on a lecture or class, she says, "I'm often watching for what I like about how the instructor is running the course."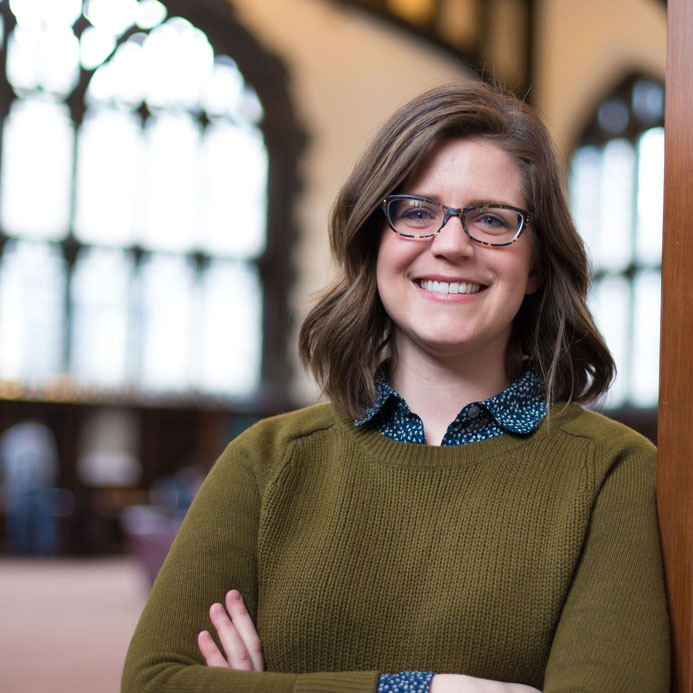 For many instructors, teaching connects topics and ideas in unexpected ways. "When you teach something close to your work, you are able to think much more richly about the topic," says Fink. She has served as a course assistant and as a writing intern several times and now helps train future writing interns as an assistant director for the Writing Program. She also taught two of her own courses for the English department based on her research interests—Retailing Bodies: Anomalous Embodiment in American Reality TV and Disability Studies: An Introduction.  
Like Fink, advanced graduate students who've progressed from assistantships or internships can apply to teach their own courses. Each year five Humanities graduate students receive Stuart Tave Fellowships, named for the division's former dean and longtime English professor, to design and teach a course based in part on their research. South Asian Languages and Civilizations PhD student Ilanit Loewy Shacham, who studies Indian literature and classical Telugu poetry, received a Tave Fellowship to teach Love Connections: Famous Couples from Pre-Modern Indian Literature. Teaching her own course was "a priceless opportunity," she says, that she can use as a talking point while on the job market.
Teaching in the Core places graduate students at the center of the UChicago undergraduate experience. These thematic courses are a challenge because of their small size, focus on academic writing and argumentation, and emphasis on class discussion. As the master of the Humanities Collegiate Division, Thomas Christensen oversees the selection of graduate students to teach in the Humanities Core. "Graduate student instructors in these courses quickly learn to be a manager of conversation," he says.
They also learn how to teach from a common syllabus. The instructors for every Humanities Core course—who might range from senior faculty to advanced graduate students—meet weekly to discuss and plan the subsequent week's classes. "There is mentorship built into the program," says Christensen, the Avalon Foundation Professor of Music and Humanities. In addition to the weekly group meetings, the faculty members observe and evaluate graduate student instructors at least once per quarter.
Santiago Mejia, AM'10, an advanced PhD student in the Department of Philosophy, says such mentorship is important. An experienced instructor, Mejia also serves as a consultant with the Center for Teaching and helped organize and design a pedagogy program that offers workshops and panel discussions with Philosophy faculty, alumni, and students. The goal of this optional program, Mejia says, was to "open up conversations about teaching." Those conversations—whether about best teaching practices, crafting a syllabus, or how to address common problems—help the graduate students learn from each other.
Teaching experiences in the humanities—from assistantships to designing and leading a class—not only develop teaching skills but also craft UChicago scholars dedicated to critical inquiry and exploration in both their research and teaching. As Loewy Shacham puts it, "Teaching is no less intellectual than what I do for my research."
PHOTOGRAPHY BY JOHN ZICH
Published: Spring 2015
---